6 Most Common Music Industry Scams (And How To Avoid Them)
09 June 2023 by Gaetano
If you're one of the shady music industry opportunists still trying to "hustle" your way into a quick buck, you're going to hate me for writing this.
Get ready, because I'm about to expose the biggest music industry schemes that STILL exploit rappers, musicians and independent artists.
It's time for upcoming artists to take back their dignity, and stop getting scammed.
WHY DO MUSICIANS & RAPPERS FALL FOR MUSIC INDUSTRY SCAMS?
Let's examine why these scams work. Songwriters, producers and upcoming artists by nature are not good business people, that's why they get business managers and lawyers to manage the non-creative side of their career for them.
However, it's not realistic for most independent artists to have a business manager. At the end of the day, it's up to each artist to manage their own independent career like a business.
For that reason, scammers will exploit the hopes and dreams of an independent rappers for their own profits.
Artists keep falling for it because the schemes are strategically built upon foundations that tap into the EMOTIONAL sensory stimuli for every person in the world that wants to be a star.
Scammers deceive artists and musicians with false promises that will tease their emotional cravings.
THE PROBLEM WITH UNSIGNED ARTISTS
Here's the most common problems with most (not all) unsigned artists:
They fail to realize that there are costs associated with every service.
They fail to accept that there are NO shortcuts to fame and fortune.
They think their talent is at a higher level than what it actually is.
They think people will help them for free.
They are easily manipulated & deceived.
They make critical decisions based off their emotions and "energy" instead of facts, data, & logical reasoning.
There are many more that I could list, but these are the main problems that I have seen throughout my years of experience in the biz, not only as an artist myself but also as a producer, songwriter, musician, and digital marketer.
Now that we know why the schemes exist, let's take a look at a few of them shall we?
SCHEME #1 – THE CLASSIC: PAY TO PERFORM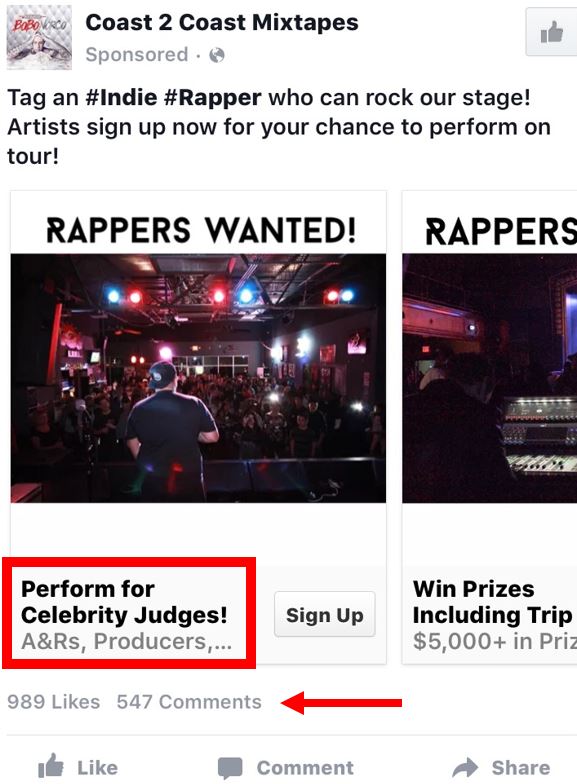 Before I even get to why this company is so unethical, I want to point out the word SPONSORED at the top of their AD. Yes, this is in fact an AD. I did not ask for this to be a part of my timeline, but because Facebook targeted advertising allows them to geo-target my location and interests, they have successfully appeared in my timeline.
So let's get into the nuts and bolts of the pay to perform scam. Ah, a classic, and one of my personal favorites.
The old "perform for celebrity judges!" trick. Or even worse "A&R JOE BLOW FROM SONY WILL BE IN THE BUILDING."
What they don't tell you, is that most A&R's are paid to be there. (Yes, I know from asking them directly).
Your performance fee is paying their salary. Even if they really did like you, these typically aren't people that have any real decision making power.
The only way to grab the attention of real decision makers is to create a huge online buzz organically through creative grassroots marketing efforts.
Now the real part I love is that they don't tell you up-front that there are submission fees and costs associated with performing.
From the outside looking in, it sounds real exciting doesn't it?
But, here's the reality:
Yep, there you have it. The other thing I forgot to mention is that these showcases often pack the performance schedule with 20+ artists or more to maximize the submission fee profits. That means, you could end up going on stage to perform at 2am when everyone has already left. Don't let this happen to you.
SCHEME #2 – PAY TO OPEN UP FOR A MAJOR ARTIST
This scheme has been around for quite some time. The danger with this one is that there appears to be legitimacy attached to it because you're getting the opportunity to open for a major artist.
I decided to include this company, Artist Auditions, into the article after a close and very smart friend of mine asked what I thought of it. The premise is that you straight up pay them a fee of anywhere from $1,000 – $3,000, in exchange for stage time as an opener for a major artist.
There are so many things wrong with this scenario that I can't even think of where to begin. I've been booked to open for major acts before, and I have GOTTEN PAID for those shows, not the opposite. Please understand that most of the audience is there to see the headliner, not you. Besides that, chances are that they will be too drunk to even remember who you were.
I have a friend who paid $1,500 cash to open for a major artist. Not only did he end up getting way less stage time than he was promised, but he was forced to perform when it was super early and most of the full audience wasn't even there yet.
Imagine why so many artists are frustrated and discouraged, because they're paying almost 2k to perform for a damn near empty room.
SCHEME #3 – THE EX BIG-WIG
For sake of not bashing anyone's personal brand, I've decided to be a good sport and blur out this guy's name and picture. Also because my network is decently vast and chances are that someone knows him. But for the purpose of spreading knowledge, I've included a screenshot of the landing page on his website. Yes, this is a real life example.
The premise here is that he will use his connects from past relationships to get you a meeting with a major record label executive. Gosh, where do I begin. I'm not discrediting his career. If you do some basic research, you can see that he's had success wearing various hats in the industry. What I want you to focus on though, is the use of very specific language. If you read through the verbiage, the word "hire" is the key.
What will happen is he will evaluate what type of an artist you are, pretend like he's interested in your music, might even ask for a press kit, etc. Then he will ask you what your budget is. Budget with regard to, how much are you prepared to pay for a meeting just to have some label A&R with no real decision making power tell you that your songs are "cool" but you need more development?
The truth is that nobody ever gets signed from these "meetings." There's no such thing as getting "discovered" or "put on."
The only artists who get noticed are the ones who aren't looking for a short cut. The ones who aren't paying for fake views and fake followers. The ones who are creating substantial content and backing it up with the right marketing strategy.
Produkt is a friend of mine. He's a hip-hop artist from the Bronx (repping my hood!) He's an example of an artist who gets it. His music is meaningful, videos are super high quality, and the overall marketing strategy is really focused on inspiring people through his music. He's passionate about his message and it definitely resonates with his audience. Browse through his social profiles and check out his music to get a better understanding of what I'm talking about. I bet if I asked him how he got to where he's at, he wouldn't say because of a "meeting" that he had to pay for.
SCHEME #4 – THE ONLINE SERVICE
This one is probably the most complicated of the bunch. Taxi is a platform that promises you "placements" of your music in feature films, TV commercials, and other licensing opportunities. They require you to fill out a profile, and then register and submit your music to "A&R's" or a "music supervisor" who will review your music and decide if it can be placed or not.
On their site, they try to validate themselves by stating:
"Taxi has an A+ rating from the better business bureau."
This should raise eyebrows anytime you see a company doing this.
Do you see Apple trying to validate themselves to consumers? No, they don't have to. Why? Because they have built their success upon a trustworthy brand-customer relationship.
Is Taxi a scheme? I think so. They're out to make money off you, and their success stories seem like they're pre-crafted. Pretty lame.
The first thing you should ALWAYS do if you're considering one of these services is search the company's name in Google followed by the word "scam."
I didn't even have to finish typing this one, as auto-suggest did it for me.
SCHEME #5 – PAY FOR FEEDBACK
This is a new phenomenon that is really mind blowing. Meet Blazetrak, a service that allows you to submit your music for a fee of course, and then a music industry professional will send you a personal video that gives you feedback on your song.
Why it's a scam:
Independent artists should be getting feedback primarily from their FANS, not people who don't care about you!
A busy producer who is getting paid to give you feedback is not going to be the answer to your prayers.
They are going to give you some VERY generic pointers and keep it moving. Transaction complete.
If you want real feedback you should be collecting data behind your music:
Send a Mailchimp survey to your email list.
Create a questionnaire with Survey Monkey or Google Forms
Invite your fans to the studio for a listening/feedback session
Check your YouTube analytics to see which videos are getting the best engagement.
The point is that you should be using data and measurable stats to determine how to plan your career. Taking opinionated advice from someone who probably doesn't care about you is not the way to go.
SCHEME #6 – SPOTIFY PLAYLIST PROMOTION SCAM
This wouldn't be a complete list without the mention of bogus Spotify playlist promotion schemes. They're everywhere. Promising thousands of streams for a fee.
Which can also get you booted off streaming platforms if you do so. They also don't tell you that your song will get lumped in with anyone else who got scammed, so genres aren't going to match, which kills your algorithm.
CONCLUSION
If you've read this far, I hope you learned something. There are no shortcuts. You can't pay your way to success. Build genuine relationships with people. Attract influencers organically. Keep making great music. Continue to develop your craft. This is really what it takes if you want to make something happen.
I'm tired of seeing people getting used and abused. The reason I published this article is to educate the independent artist community on what is happening out there. There are very smart people that get manipulated all the time. It happens every day. These schemes are very strategic in how they present themselves with temptation of your emotions. Don't let it be you. Be realistic, be honest, do your research, and use common sense. If it sounds too good to be true, it likely is.
To get in touch with Gaetano, follow him on Instagram: @official_gaetano
---
---