Is Coast 2 Coast Mixtapes a Scam? Decide for Yourself.
01 May 2022 by Gaetano
Coast 2 Coast Mixtapes (or Lil Fats, Inc.) is a complex scam. This review will explain how they're running a deceptive business model that has become massively successful due to a slick combination of social media advertising, outbound marketing, email marketing, direct sales, and branding.
All these parts working together in perfect harmony allow for the model to succeed. In this article, I'm going to breakdown its components and reveal exactly how it all works.
Over the past month, I've been talking to artists, songwriters, producers, DJ's and industry insiders who are all too familiar with the operation. In fact, I've even talked to a few artists who have been through their showcase and promo system. While most of them preferred to remain anonymous, I'll be deriving specific examples and stories that support my conclusions.
It All Started With Ads
This all started because I became really annoyed with their social media advertising.
At first, I'd see their ads on occasion, but then I started seeing them almost daily.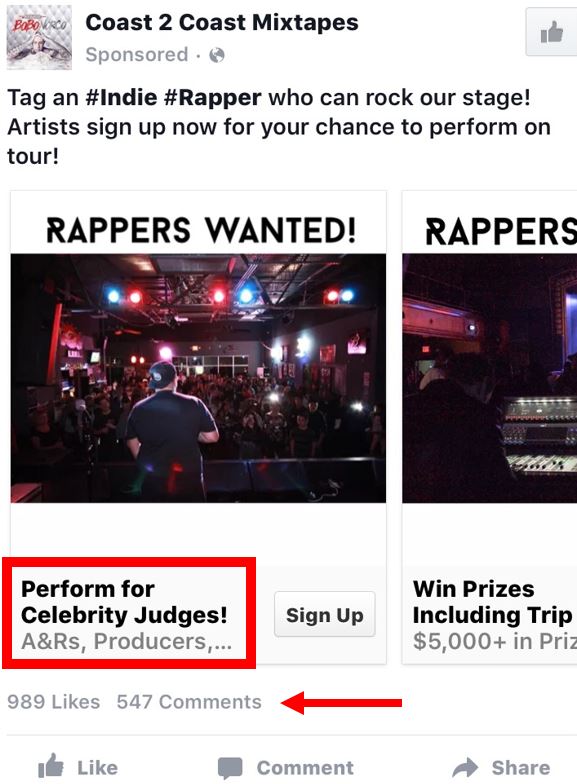 Pay attention to the wording. RAPPERS WANTED! (Said no one ever). They even went as far to say "Sign Up Now For Your Chance To Perform On Tour." This is extremely misleading, as they are not presenting real touring opportunities.
What they are doing is driving from state to state, renting out low budget banquet halls / bars, and packing their showcases full with as many artists as they can. Last time I checked, a tour is when an artist performs a series of concerts to fans, not other unsigned artists who have zero intention of supporting their music, buying merch, subscribing to their mailing list, etc.
DOES THIS LOOK LIKE A TOUR TO YOU?
TAG AN INDIE ARTIST WHO "TURNS UP" ?
It was clear that this type of messaging was making an impact. Just browse through the huge list of comments on their ads.
Clueless amateurs are eating it up like candy. I had to do something, so I wrote a post about music industry schemes that still exploit unsigned artists.
The post ended up getting a lot of attention after it was picked up as a guest post for Digital Music News.
I Pissed Them Off, Oops.
Apparently, they're pretty pissed that I exposed the jig. Unfortunately, my previous article only scratched the surface of things, and didn't provide sufficient explanation behind what they are really doing, and why their service is not adding real value to those who choose to pay for it. This time around, I've got specifics, which you'll see as you continue to read the article.
As far as me calling them "scummy" – that is my opinion based on what I know about their business model and other artist complaints that have come to surface. It is really no different than writing a negative review on yelp. How can a lawyer try to bully me for that?
Let's look at this Ripoff Report.
There are a ton of these out there. If Coast 2 Coast is asking their lawyer to come after me, then they should go after every single person who posted a negative review online too.
If you have a business, prepare to get reviewed online by consumers and press. If you're doing questionable business, and consumers rise by pointing light to what's going on, then its time to rethink how ethical your practice is.
Instead – Coast 2 Coast is relying on their lawyers to squash any and all opposition.
By the way, this is the dude charging you $300 to perform one song. What's wrong with this picture? He's a rapper himself. Gotta wonder why he hasn't used his touring service to put himself on the map. Oh yeah, that's right, he realized he can make more money by presenting misleading opportunities than rapping.
What Is A Scam?
Let's start by looking at what the word "scam" is defined by.
I want you to focus on the words, fraud & trick. That is exactly what Coast 2 Coast is doing. They have found a loop hole in the system that allows them to profit off of a service that does not deliver what it promises. In fact, they are very good at painting a picture of legitimacy.
One thing Coast 2 Coast, and services like it are notorious for –  they pay off known artists with a strong buzz to co-sign or host their Mixtape series.
We all know that 2 Chainz was successful long before 2012, due to his own hard work and timing. After numerous features with Lil Wayne and others from 2007, he gained additional momentum by releasing 2 of his own Mixtapes – Codeine Withdrawl & Codeine Cowboy. Coast 2 Coast then used that pre-existing momentum and framed it as their own in this suggestive video.
Why is this so crucial for C2C? Well, to be specific, they target amateur level artists who do not know any better, and it works. Coast 2 Coast has mastered the art of appealing to easy prey. I'll dive deeper into this soon.
Google Doesn't Lie
Google's auto-suggest is a predictive modeling keyword feature that accurately reflects what other people are searching for on the web. As Google can tell you, people are definitely searching for "Coast 2 Coast scam." In fact, I was curious to know exactly how many people are searching for that query, so I popped it into Google's Keyword Planner.
You might not think 30 monthly searches is a lot.
But what if based on this information, we assume that 30 indie rappers end up performing in their showcase every month, on average.
30 x $300 = $9,000 <<<— That means they're probably making $9,000 per show.
That's a quick $9,000 in monthly recurring revenue, on average, which is just peanuts compared to how much they are probably making in reality.
At this point, you're probably wondering where that figure of $300 came from. Well, it's the fee you'll have to pay if you want to perform ONE SONG at a Coast 2 Coast showcase.
Instead of ridiculously wasting $300 to perform one song, you could spend that money more efficiently and get a high quality video produced for yourself, such as this one:
Don't believe me? Artists aren't making this stuff up.
This artist "won" a spot to perform on Coast 2 Coast Live, but was required to pay a fee of $300. She then got a very unflattering email urging her to "lock in" her performance slot with a deposit of $150.
BlackLuck, a Cleveland born M.C.,  went and set up a profile on Coast 2 Coast's website, but then realized that there was a performance fee required, so he never went forward with submitting. Since then, he says that he constantly gets promotional sales driven emails from Coast 2 Coast.
When he responded to one of their emails, explaining that he was all too aware of what their motives are, he got this response.
Had To See For Myself
I was extremely curious to see how the selection process works, so I decided to submit for a showcase myself. To be bold, I used a Gucci Mane track, renamed the title of it to something else (to see if they'd actually listen) and then submitted for their upcoming Atlanta Showcase. Within 48 hours, I was selected.
Wow, better get my $150 deposit ready!
This confirms what I originally knew but wanted to prove –  they accept everyone & anyone without even researching who they are. They're looking for volume. Churn in, churn out.
Damn, They Got Meek Mill Too?
Yep, they did. If you didn't already know, Coast 2 Coast pays well known artists for drops and co-signs. That's one of the techniques they use to try and prove legitimacy to their doubters.
Here's how it went down. They paid Meek for a drop, but took it too far and claimed that he co-signed one of their Mixtapes. Then, they slapped Meek's picture on one of their Mixtape covers and had the nerve to advertise it on World Star, a very influential high traffic site that would clearly appeal to some of the types of artists they are targeting. 
How Many Rappers Get Booked Per Show?
This show had a 32 artist line up. Impressive. Let's do the math on that. 
32 x $300 = $9,600
Notice how closely that aligns with the estimate made based on our Google numbers from earlier. Let's take it a step further now.
Let's assume on average, they're making $9,600 per showcase. Their showcase schedule shows that they host, on average, 30 showcases per month. Let's do the math on that one.
30 x $9,600 = $288,000 <<<— They could potentially be making $288,000 a month. Yikes.
I think you get the picture. I don't even want to think about what they're pulling in yearly. Let's move on.
Meet $lim Tuc – 16 Years Old
This is 16 year old, $lim Tuc, out of Tucson, Arizona. He's a sophomore in high school, and earns a modest wage by working at Kentucky Fried Chicken after class, and also on weekends. When he's not in school or working at KFC, he's writing lyrics and practicing his rhymes. Tuc was one of the geo-targeted Facebook users that came across Coast 2 Coast's sponsored Ad. Tuc was quick to act and submitted for an upcoming Arizona showcase.
Within 48 hours of his submission, he was accepted to the showcase and spent one week of wages at KFC to put down a $150 deposit, locking his performance slot. Tuc was reasonably excited at this point, and took his excitement to social media.
After getting warned about C2C from conversations on Twitter, he did his own due diligence and decided to withdraw from the showcase. He's currently in the process of asking C2C to refund his deposit, but is uncertain as to whether they'll give it back or not.
Tuc realized he would have driven 2 hours each way, had to cough up another $150 at the door, and then cover all his traveling expenses. All of this on a school night by the way.
Coast 2 Coast is targeting uneducated, desperate rappers with empty promises and false hopes.
For every one like Tuc, there are hundreds (if not thousands more) who will fall for the same thing.
Here's where he would have performed at…  Are you fucking kidding me? 
Here's who he would have performed for… who the fuck are these people? 
I'll admit that I have seen an occasional label A&R as a judge panelist for their showcase, but here's what kids like $lim Tuc are too inexperienced to understand:
The label A&R's who are panelists for these events are only there because they are getting paid. Furthermore, most of them have no real decision making power. They are simply playing a part in the story, and everyone gets to go home happy. Except the artists. 
Furthermore, I should say SHAME on you label A&R's and DJ's who participate in these events. You're an accomplice, guilty of contributing to selling empty dreams and shallow promises to artists who don't know any better.
It Goes Back To The Myspace Days
I've been breaking down how the showcases work, but what about the Mixtape promo?Turns out they've been at this for quite some time. (Since the Myspace days, whoa).
How about we take a look at a mass email spam that LIL FATS himself would send out to random artists on Myspace, badgering them for for an upfront total of $475. 
What's even more disturbing is the great lengths at which he goes to prove legitimacy (read the last highlighted sentence), all while maintaining the pressure for an upfront PayPal or Western Union transfer.
But Wait, You Have To Invest In Yourself!
As far as I see it, there's only 2 sides to this war. Either you're for exploiting artists, or you're not. Why am I so passionate about this? Because I'm an artist first and foremost. I love music. I love art. It nauseating to accept the fact that these industry rapists are molesting us.
I'm already anticipating it now, there's going to be a TON of backlash at this article. Don't think that Coast 2 Coast is the only service provider out there running this type of operation, because they aren't. In fact, there are dozens of others. Many of those folks who are involved with similar operations to C2C are wolves in sheep's clothing, and they are connected to you right now via your own social networks, whether you know it or not.
Here's what some of the most common rebuttals to this piece will be:
How do you expect to get fans to invest in your brand, if you won't?
Artists just want everything for free these days. 
Apple is one of the most valuable brands in the world. They still spend millions promoting the iPhone, what makes you think you can build a brand for free?
Artists have unrealistic expectations. They should know that Coast 2 Coast is just providing access to the industry, its up to artists to use the resources properly. 
Paying to meet with top level executives has been around for decades in other industries, and is still common practice. Music industry is no different. 
This dude is just pushing his personal brand. 
This article is too one sided, and makes a lot of assumptions. 
I can tell you right now that most people (not all) who make these types of comments are completely choosing to miss the point, because they are on the industry side and are involved in some type of similar operation.
I'm in no way shape or form saying that indie artists shouldn't be investing in themselves. However, what I am saying – Is that if you are going to invest in yourself, it needs to be a smart and well-informed decision. Nothing that has been influenced by gimmicky social advertising, or shallow promises.
As far as me pushing my personal brand, where throughout this article have you heard me shamelessly plug you to my music? I'm an artist, for artists. If you choose to check out my music beyond here, then cool, and I thank you. But my primary goal throughout all of this is to spread and share FREE knowledge of the industry that I've acquired over my 8+ years of experience dealing with sharks and shady characters who are just looking to make a quick buck.
Related Read: Check out the best recording studios in NYC. 
My Final Thought
Don't be a statistic. Do your research. There are no shortcuts. Don't spam. Don't pay for blog post placements. Don't pay for links. Don't pay to perform. Don't pay for anything other than your own artist development, personal branding, web marketing, education, musical training, videos, content strategy, images, and assets. Please understand that grassroots marketing and amazing quality online content, over time, will attract those who need to find you.
"Be the flame that attracts the moth, not the moth that chases the flame."

– Giacomo Casanova.
---
---